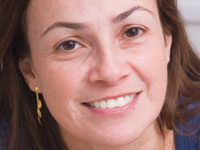 You've undoubtedly seen toothpaste commercials talking about the dreaded gingivitis, but you probably assumed it would never affect you. The truth is that gingivitis is the most common periodontal disease in the county, affecting 90 percent of the population. Yes, it's even a problem right here in La Jolla.
Gingivitis is an infection of the gums caused by bacteria that form plaque. When you visit periodontist Dr. Gary Sigafoos on a regular basis, the professional team at LaJolla Periodontics is able to remove the small amounts of plaque that build up between visits. But when left to accumulate, plaque increases, and harmful bacteria grows.
The problem begins when these bacteria release toxins that result in inflammation of the gum tissue. Dr. Sigafoos will tell you that, if not properly treated, gingivitis may progress to periodontitis, a periodontal disease in which you may eventually lose teeth.
The best solution is to prevent gingivitis by making regular appointments with the friendly, experienced staff at LaJolla Periodontics in La Jolla. If it strikes, however, Dr. Sigafoos can effectively treat this disease before it causes damage. To set up an appointment, call (855) 563-7049 today.
Read more about gingivitis dentist: